First Global Meeting of National Societies of Shoulder and Elbow Surgery
Organiza




Asociación Argentina de Hombro y Codo
For the first time, the most important national shoulder and elbow surgery societies in the world come together in a common project, the organization of an online update course with the participation of leaders from the 5 continents. This project promoted by the Argentine Association of Shoulder and Elbow Surgery in its thirtieth anniversary would have been impossible without the generous collaboration of sister societies from all over the planet.
The course includes the most varied topics addressed by top-level experts. This event will be a milestone in the history of our subspecialty and surely the generator of many more joint activities in the future. The program gather:
125 conferences and round tables (84 in English and 41 in Spanish)
140 world leaders
36 countries
5 continents
Participating Societies
American Shoulder and Elbow Surgeons - Argentinean Shoulder and Elbow Society - Australian Shoulder and Elbow Association - Bolivian Society of Shoulder and Elbow Surgery - Brazilian Shoulder and Elbow Society - Canadian Shoulder and Elbow Society-Colombian Shoulder and Elbow Society-Dominican Republic Shoulder and Elbow Committee-Dutch Shoulder and Elbow Society-Shoulder and Elbow-Equator Chapter-Egyptian Shoulder Surgery Association-French Shoulder and Elbow Society-German Shoulder and Elbow Society-Hellenic Association of Orthopaedic Surgery and Traumatology-Shoulder and Elbow Society of India-Indonesian Shoulder and Elbow Society-Irish Shoulder and Elbow Society-Israeli Shoulder and Elbow Society-Italian Society of Shoulder and Elbow Surgery-Japan Shoulder Society-Korean Shoulder and Elbow Society-Mexican Society of Shoulder and Elbow Surgeons-Norwegian Orthopaedic Surgeons-Panamanian Association of Shoulder and Elbow Surgeons-Paraguayan Association of Shoulder and Elbow Surgery-Peruvian Society of Shoulder and Elbow-Portuguese Shoulder and Elbow Society-South African Shoulder and Elbow Association-Spanish Society of Shoulder and Elbow Surgery-Turkish Shoulder & Elbow Society-Uruguay Shoulder and Elbow Chapter- Venezuelan Shoulder and Elbow Committee-Ibero-Latin American Federation of Shock Waves and Tissue Engineering-Shoulder Planet-SICOT Latam-SICOT Shoulder and Elbow Committe SLAHOC Rehabilitation Committe.
International Faculty:
Alajmo, Giusuppe (Colombia)
Aguirre, Roberto (Ecuador)
Alfano, Federico (Argentina)
Aminata, Imán (Indonesia)
Ângelo, Ana Catarina (Portugal)
Arrue, Humberto (Panama)
Artha, Arisna (Indonesia)
Assunção, Jorge (Brasil)
Atalar, Ata Can (Türkiye)
Athwal, George (Canada)
Aydin, Nuri (Türkiye)
Babhulkar, Ashish (India)
Bachar Avnieli, Ira (Israel)
Badekas, Thanos (Greece)
Barcelos, Matheus, (Brasil)
Barraez, Tito (Venezuela)
Barrera Oro, Ariel (Argentina)
Beltramelli, Domingo (Uruguay)
Bicknell, Ryan (Canada)
Bilsel, Kerem (Türkiye)
Bøe, Berte (Norway)
Boehm, Dirk (Germany)
Borroni, Mario (Italy)
Brandao, Bruno (Brasil)
Brilakis, Emmanouil (Greece)
Bruguera, Miguel (Spain)
Brunner, Ulrich (Germany)
Cabrera, Nahuel (Argentina)
Canal, Hernán (Colombia)
Cassidy, J. Tristan (Ireland)
Castricini, Roberto (Italy)
Celli, Andrea (Italy)
Chechik, Ofir (Israel)
Chen, René (Panamá)
Chidambaram, Ram (India)
Claro, Rui (Portugal)
Delaney, Ruth (Ireland)
Del Hazra, Rony (Germany)
Demirhan, Mehmet (Türkiye)
Duralde, Xavier (USA)
Echeverri, Sergio (Colombia)
Elsayed, Hany (Egypt)
Español, Anunciación (España)
Espinal, Pavel (Rep. Dominicana)
Fabela, Ernesto (México)
Falck, Björn (Sweden)
Fandridis, Emmanouil (Greece)
Feroussis, John (Greece)
Fierro, Guido (Colombia)
Fleega, Basim (Egypt)
Flores, Miguel Ángel (Spain)
Gohlke, Frank (Germany)
Gomez, Alfredo (Brasil)
Gómez, Diego (Argentina)
Guiloff, Leonardo (Chile)
Hasegawa, Akihiko (Japan)
Hernández, Eric (Puerto Rico)
Hiramuro, Fernando (México)
Irigoyen, Julio (Bolivia)
Jan Veen, Bart (Netherlands)
Jacques, Lucas (Brasil)
Jensen, Kjersti (Norway)
Jeon, In-Ho (Korea)
Kany, Jean (France)
Kekatpure, Aashay (India)
Kholinne, Erica (Indonesia)
Koukos, Christos (Germany)
Kucharski, Emerson (Uruguay)
Lapner, Peter (Canada)
Lech, Osvandre (Brasil)
Leonet, Jean Luis (Ecuador)
Levy, Ofer (Israel)
List, Killian (Germany)
Lozano, Christian (Perú)
Macedo, Luis (Perú)
Maia Días, Carlos (Portugal)
Malavolta, Eduardo (Brasil)
Mansat, Pierre (France)
Métais, Pierre (France)
Mihata, Teruhisa (Japan)
Moosmayer, Stefan (Norway)
Moreno, Alejandro (Argentina)
Morillas, Juan Miguel (España)
Morrissey, David (Ireland)
Moya, Daniel (Argentina)
Mulder, Mike (S. Africa)
Mullett, Hannan (Ireland)
Muñoz, Laura (España)
Nagar Rasyid, Hermawan (Indonesia)
Naula, Víctor (Ecuador)
Nourissat, Geoffroy (France)
Nunes, Bernardo (Portugal)
O´Driscoll, Shawn (USA)
Oh, Joo Han (Republic of Korea)
Onishi, Wilson (Bolivia)
Padua, Roberto (Italy)
Page, Richard (Australia)
Palacios Fantilli, Jesús (Paraguay)
Paladini, Paolo (Italy)
Pandey, Vivek (India)
Panjaitan, Troydimas (Indonesia)
Parada, Luis (Venezuela)
Park, Jin-Young (Republic of Korea)
Patiño, Juan Martín (Argentina)
Prasetia, Renaldi (Indonesia)
Pérez, Carlos (Puerto Rico)
Piggott, Robert (Ireland)
Hasan, Samer (USA)
Rajah, Leon (S. Africa)
Reshef, Noam (Israel)
Rhee, Yong G (Republic of Korea)
Rivera, Alberto (Puerto Rico)
Roca, Rodrigo (Bolivia)
Roche, Steve (S. Africa)
Rodríguez, José (Puerto Rico)
Rosinsky, Philip (Israel)
Safoury, Yasser (Egypt)
Salamone, Héctor (Argentina)
Sánchez Sotelo, Joaquín (USA)
Seyahi, Aksel (Türkiye)
Scheibel, Markus (Germany)
Schulz, Christoph (Germany)
Scutia, Giovanni (México)
Segura, Marilina (Argentina)
Simone, Juan Pablo (Argentina)
Sinopidis, Christos (Greece)
Sperling, John (USA)
Sugaya, Hiroyuki (Japan)
Sukmawan, Jefri (Indonesia)
Taylor, Fraser (Australia)
Terán, Paul (Ecuador)
Ticker, Jonathan (USA)
Torrens, Carlos (Spain)
Torres, Byron (Ecuador)
Valenti, Philippe (France)
Valero, Fernando (México)
Valles, Juan (Venezuela)
van der Linde, Just (Netherlands)
van Deventer, Susan (S. Africa)
Vastamäki, Martti (Finland)
Vargas, Rodrigo (Colombia)
Vega, Aldo (Paraguay)
Vick, Rodrigo (Brasil)
Vila, Marcelo (Argentina)
von Heideken, Joham (Sweden)
Werthel, Jean David (France)
Wong, Ivan (Canada)
Yarom, Ram (Israel)
Yoo, JC (Republic of Korea)
Zapata, Jonadan (Rep. Dominicana)
ver más
Docentes
140 International Lecturers
Programa Académico
Módulo

1



240 horas cátedra | Comienza: 17 de abril de 2023 | Termina: 17 de julio de 2023
Certificados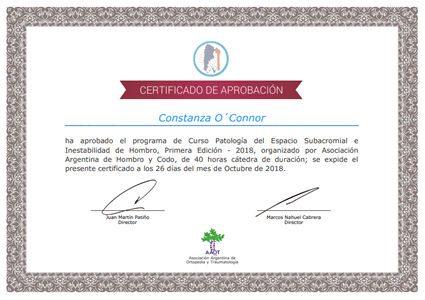 Precios
La capacitación: First Global Meeting of National Societies of Shoulder and Elbow Surgery completa (con envío de certificaciones, evaluaciones y todo incluido) cuesta ARS 52000.
Importante:
Por más que presentamos el precio en una divisa diferente a la suya, para que alumnos de todo el mundo tengan referencia, usted siempre pagará el equivalente en su moneda local según la forma de pago elegida. Puede utilizar un
conversor de monedas gratuito
para obtener una estimación.
Formas de Pago
Atención: Al terminar el proceso de inscripción, si eligió una forma de pago que NO es online, el sistema le mostrará los datos para hacer efectivo el pago y también se los enviará por Email.